Regular price
Sale price
$11.95 USD
Unit price
per
$AVE!
Sold out
Yes! It's the all-new, mix-at-home powder concentrate version of our oh-so-popular foaming bathroom cleaner! Same amazing cleaning power, with way cooler packaging.
No noxious fumes or harmful chemicals here, just pure polishing power for your sink, tub, tile, and toilet. It easily removes hard water deposits, mold, mildew, and other build-up so your surfaces sparkle. Except marble - does not play nice with marble!
Now available as an individual refill sachet which makes 16 fluid ounces of cleaner, or a bulk pouch which makes 1 gallon (equivalent to 8 bottles).
Net Weight: .4oz / 10g or 2.8oz / 80.5g
The Bathroom Cleaner Starter Pack comes with an empty spray bottle clearly labeled for your viewing enjoyment. Buy it once and it's yours forever! AAAAAAND, the foaming sprayer has no metal parts, making it 100% recyclable (should the need ever arise). 
FYI - The spray cleaner dispensers are TOTALLY optional! Already have a bottle at home you can use? Please do it! We're all about using what you have and rockin' hard on the zero waste train.
For maximum effectiveness we HIGHLY recommend using a foaming sprayer for the bathroom cleaner.
Ingredients

Citric acid, sodium c14-16 olefin sulfonate, sodium gluconate
Packaging/Lifecycle

Speaking of packaging...we tried really hard to find the absolute best. This stuff is bio-based and 100% compostable, even at home! Certifications include ASTM D6400, EN13432, and BPI. All components are safe for at-home composting (including the labels and their adhesive backing), but time to fully decompose will vary based on your unique conditions. We recommend a quick rinse of the empty sachet before composting.

No compost? No problem! Click here to find the FAQ about our pouch return program.

ALSO! The sprayer has no metal parts, making it 100% recyclable (should the need ever arise).
Pro Tips

PRO TIP #1: To avoid extreme volcanic foaming action - add water first, then powder!

PRO TIP #2: A funnel may be helpful.

PRO TIP #3: Stir or swirl to dissolve powder. DO NOT SHAKE.

PRO TIP #4: When powder is completely dissolved swirl gently again to completely disperse all ingredients.

PRO TIP #5: Test on a small patch of the surface you want to clean to ensure compatibility.

PRO TIP #6: DO NOT USE ON MARBLE!
Safety/Other Info

SAFETY BLURB! Our products are earth friendly and awesome, but they make terrible cocktails and will definitely irritate your eyes. Do not eat (yes, we said that). If ingested, drink plenty of water. In case of eye contact, flush with water. Call a physician in either case. If on skin, rinse with water. Keep out of reach of children/pets, use as directed, and all that jazz…

Also FYI: We're constantly working to improve our formulas, and our ingredients may change occasionally. We update the listing here as soon as possible, but you can always find the exact ingredients in the product you received on the actual product packaging or the packing slip that came with your delivery.
Share
View full details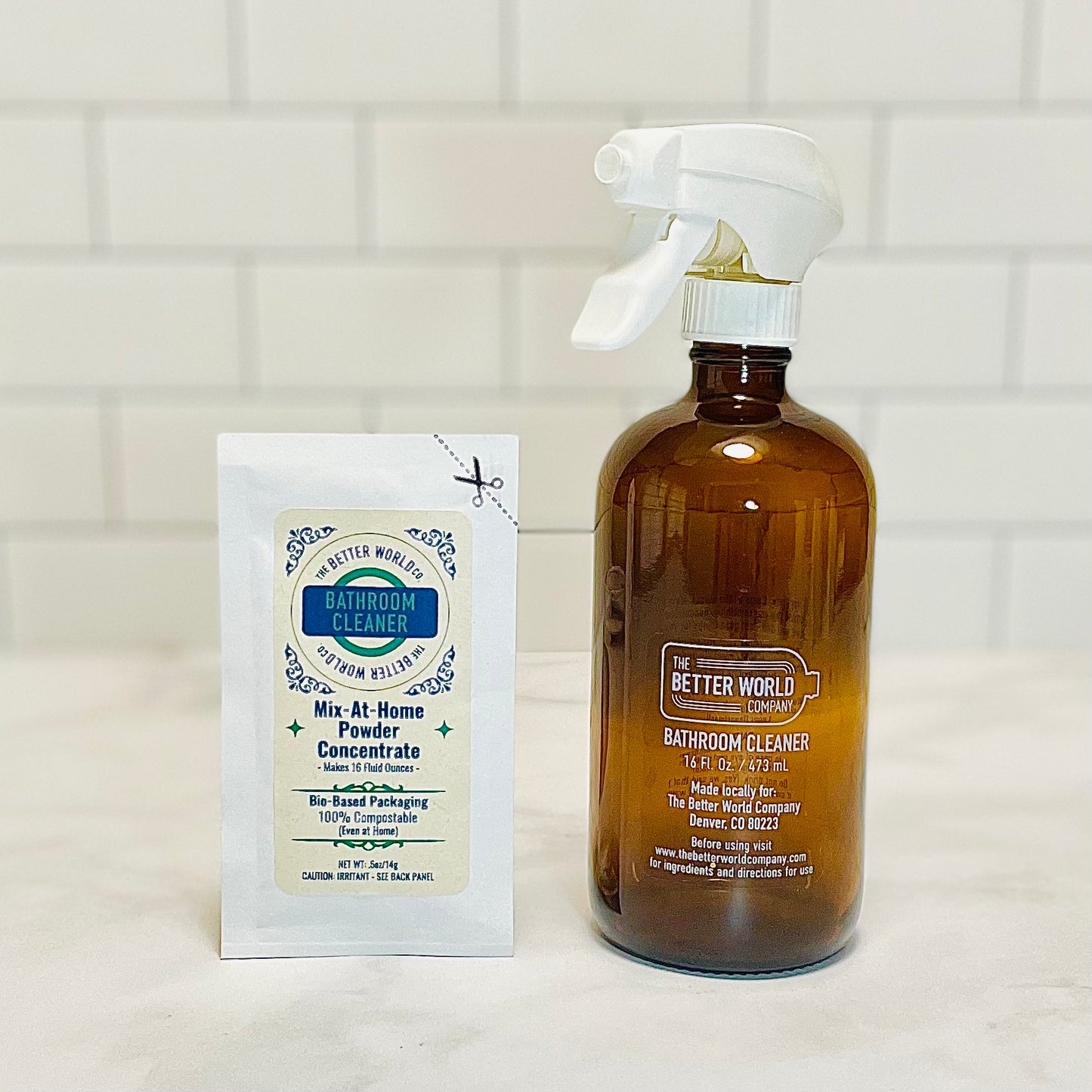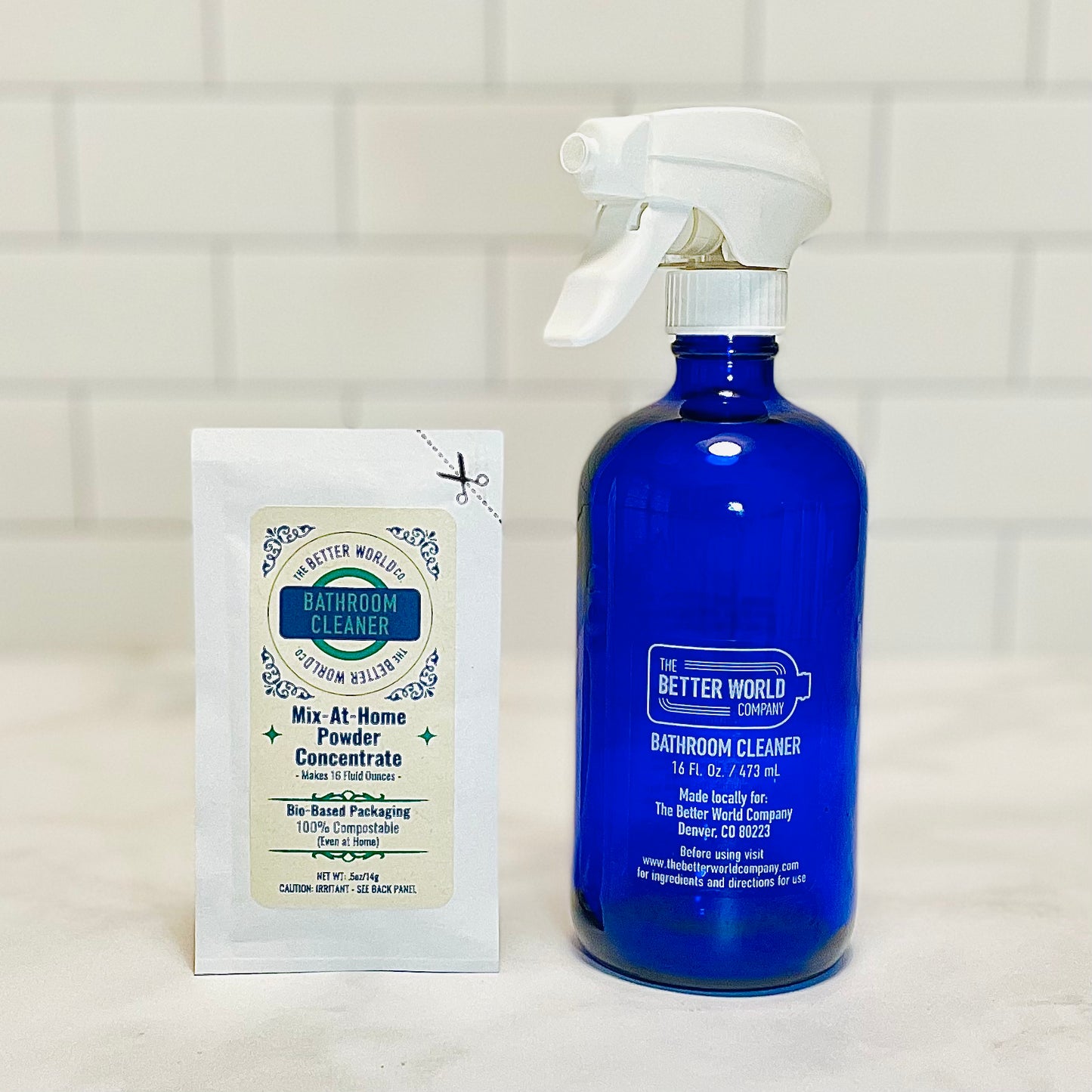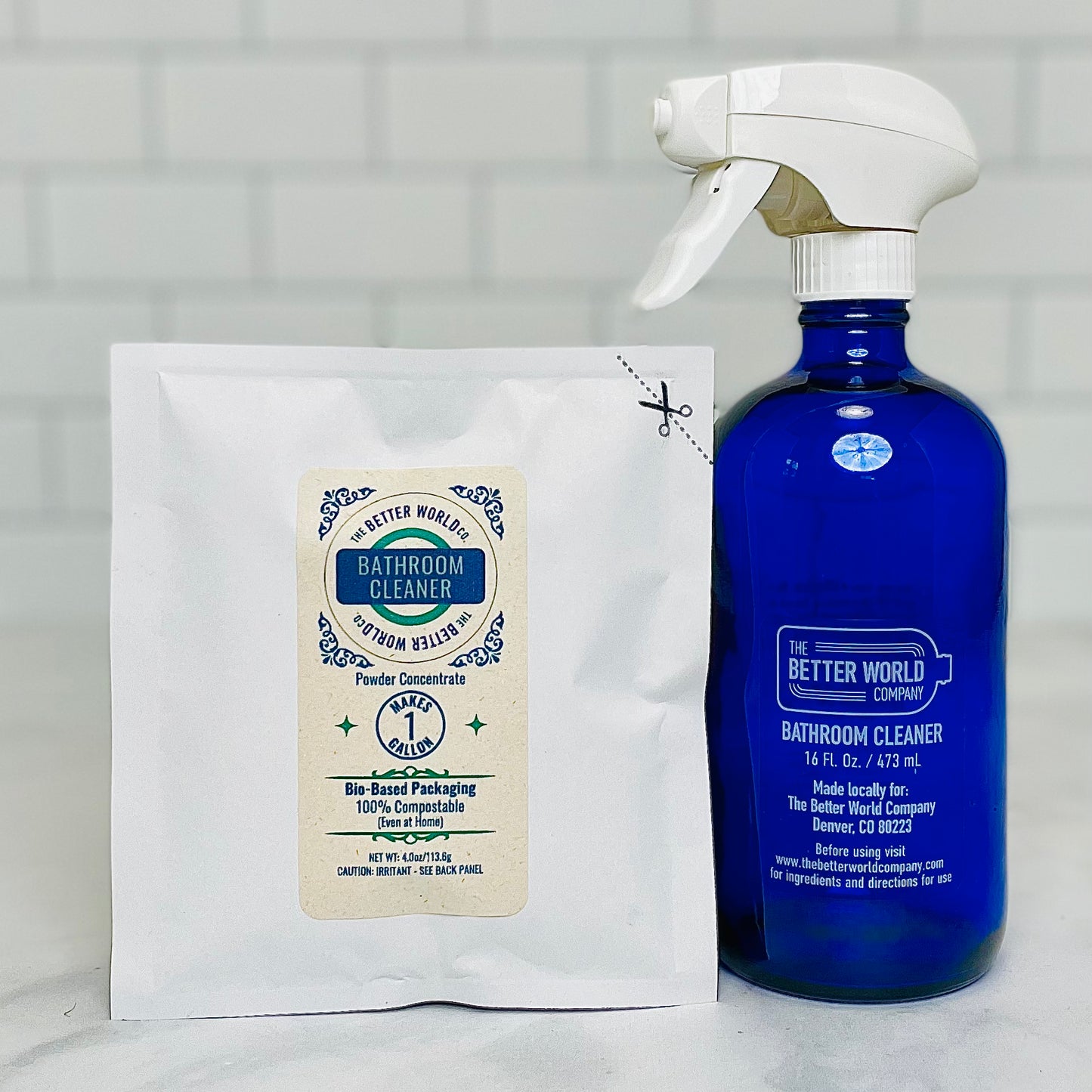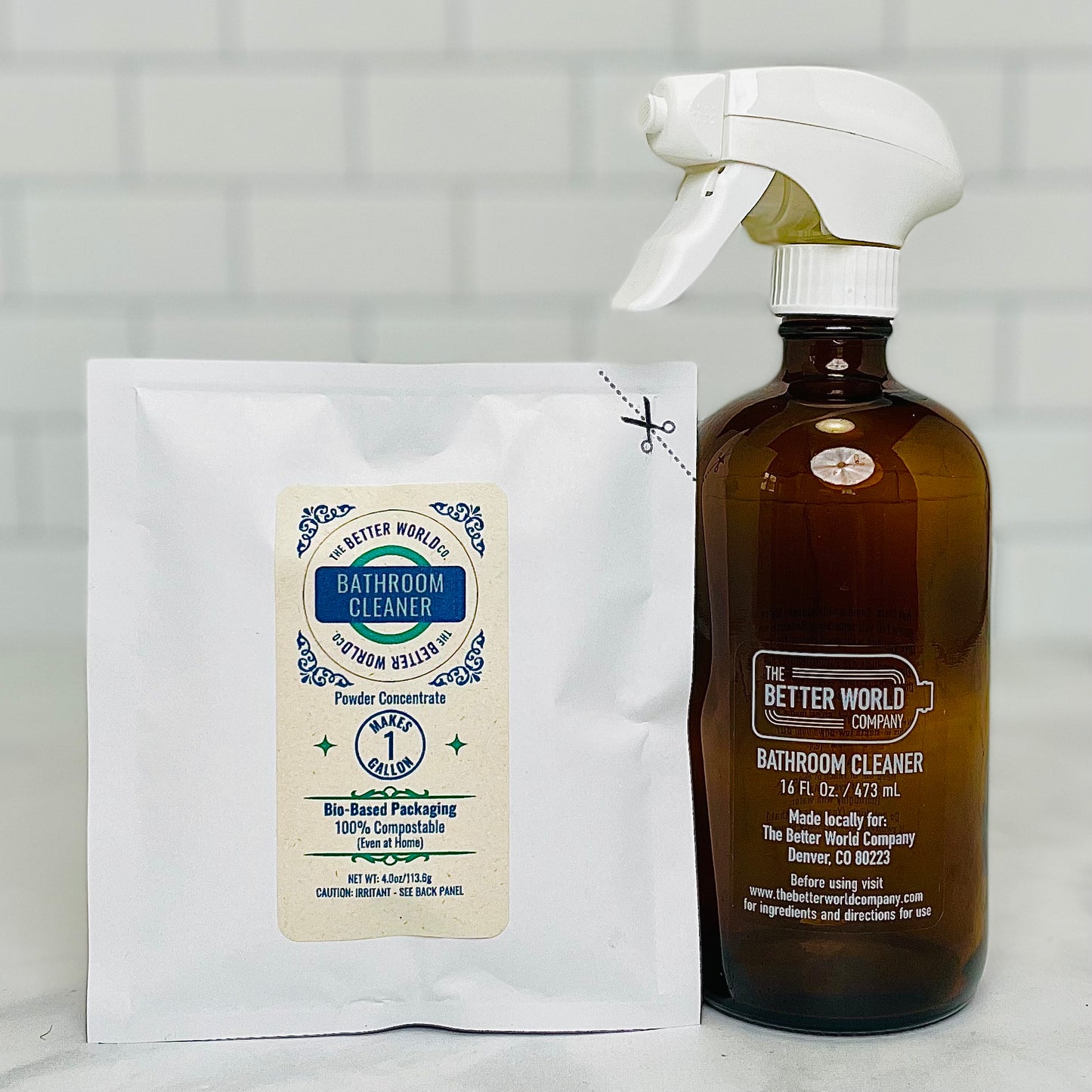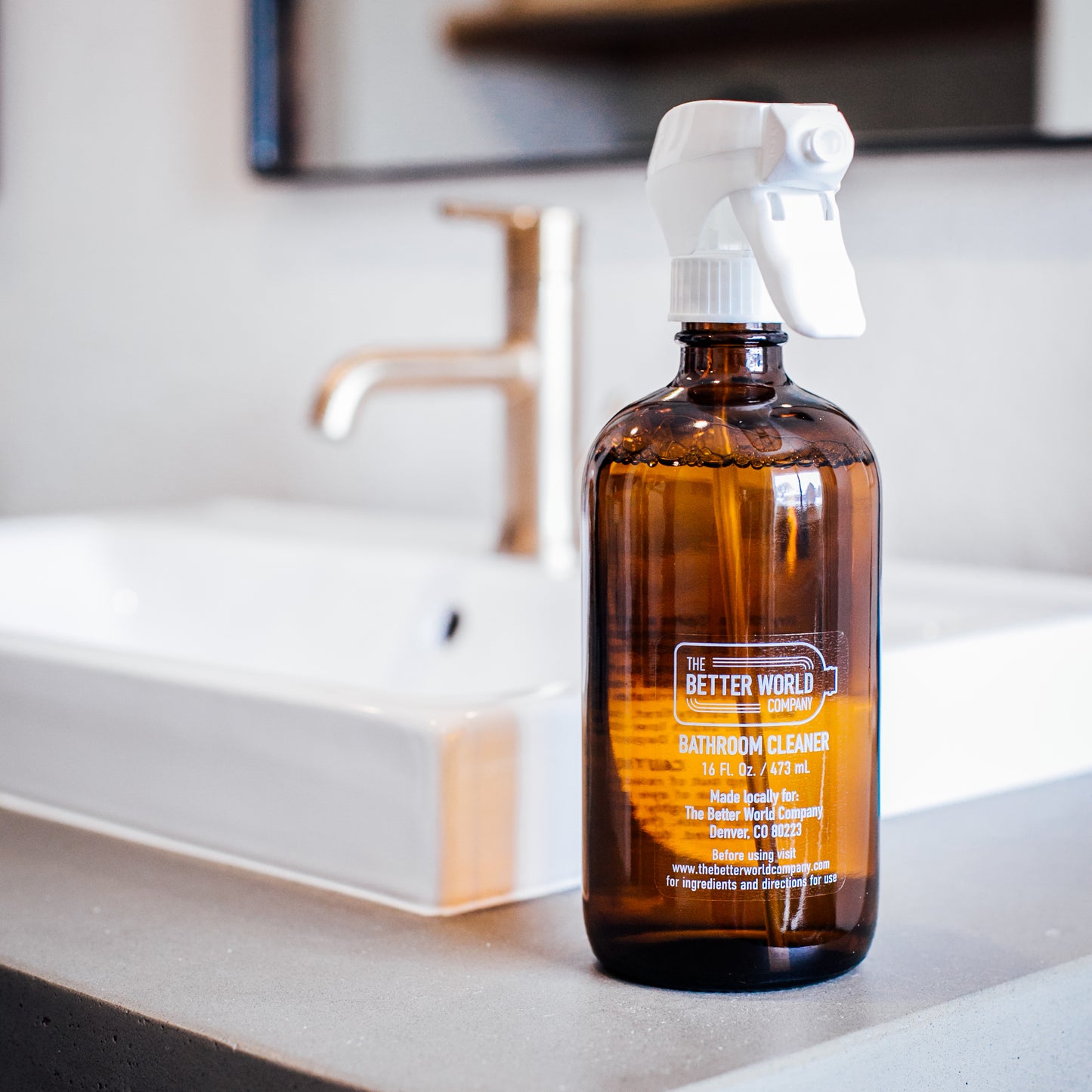 How It Works - Mix at Home Powder Concentrate
Fill.

Fill your Better World spray bottle with 16oz of water (warm dissolves faster, but isn't absolutely necessary).

Pour.

Snip the corner of the refill pouch and pour entire contents into bottle. A funnel may be helpful.

Swirl.

Firmly reattach nozzle and gently swirl. DO NOT SHAKE! Be patient. The powder will dissolve eventually.