Regular price
Sale price
$7.95 USD
Unit price
per
$AVE!
Sold out
Throwin' it back to the good ol' days, except this won't wreck your skin like the powdered soaps of yesteryear. Cleans even the dirtiest of hands, but our awesome blend of moisturizers leaves them feeling super soft and, dare we say...supple. Big smile optional but highly recommended.
Better yet, one (compostable!) pouch of our powdered hand soap is equal to 2.5 x 16 oz bottles of liquid hand soap. That's a lot of plastic (and moolah!) you just saved. Zero Waste for the win!
Net Weight: 1.9oz / 54g
Ingredients

Maltodextrin, sodium cocoyl isethionate, tapioca starch, avena sativa kernel flour (colloidal oatmeal), betaine (sugar beet extract), cocamidopropyl betaine, guar hydroxypropyltrimonium chloride, organic agave inulin, glucomannan (konjac root powder), gluconolactone, glyceryl oleate
Packaging/Lifecycle

Speaking of packaging...we tried really hard to find the absolute best. This stuff is bio-based and 100% compostable, even at home! Certifications include ASTM D6400, EN13432, and BPI. All components are safe for at-home composting (including the labels and their adhesive backing), but time to fully decompose will vary based on your unique conditions. We recommend a quick rinse of the empty sachet before composting.

No compost? No problem! Click here to find the FAQ about our pouch return program.
Pro Tips

PRO TIP #1: For clean and easy dispensing, tip the shaker bottle horizontally and gently tap with your forefinger to release powder. A little goes a long way...

PRO TIP #2: Apply to wet hand - water first, then powder! Also, if your lather seems pasty instead of bubbly, you may need to add a bit more water to help build foam.

PRO TIP #3: Keep contents dry. The Hand Soap powder is not meant to be exposed to water prior to use. Close cap between uses to help prevent clumping.
Safety/Other Info

SAFETY BLURB! Our products are earth friendly and awesome, but they taste terrible and might irritate your eyes. Do not eat. If ingested, rinse mouth then drink plenty of water. In case of eye contact, flush thoroughly with water. Avoid prolonged contact with skin. Discontinue use if irritation occurs. Keep out of reach of children/pets, use as directed, and all that jazz…

Also FYI: We're constantly working to improve our formulas, and our ingredients may change occasionally. We update the listing here as soon as possible, but you can always find the exact ingredients in the product you received on the actual product packaging or the packing slip that came with your delivery.
Share
View full details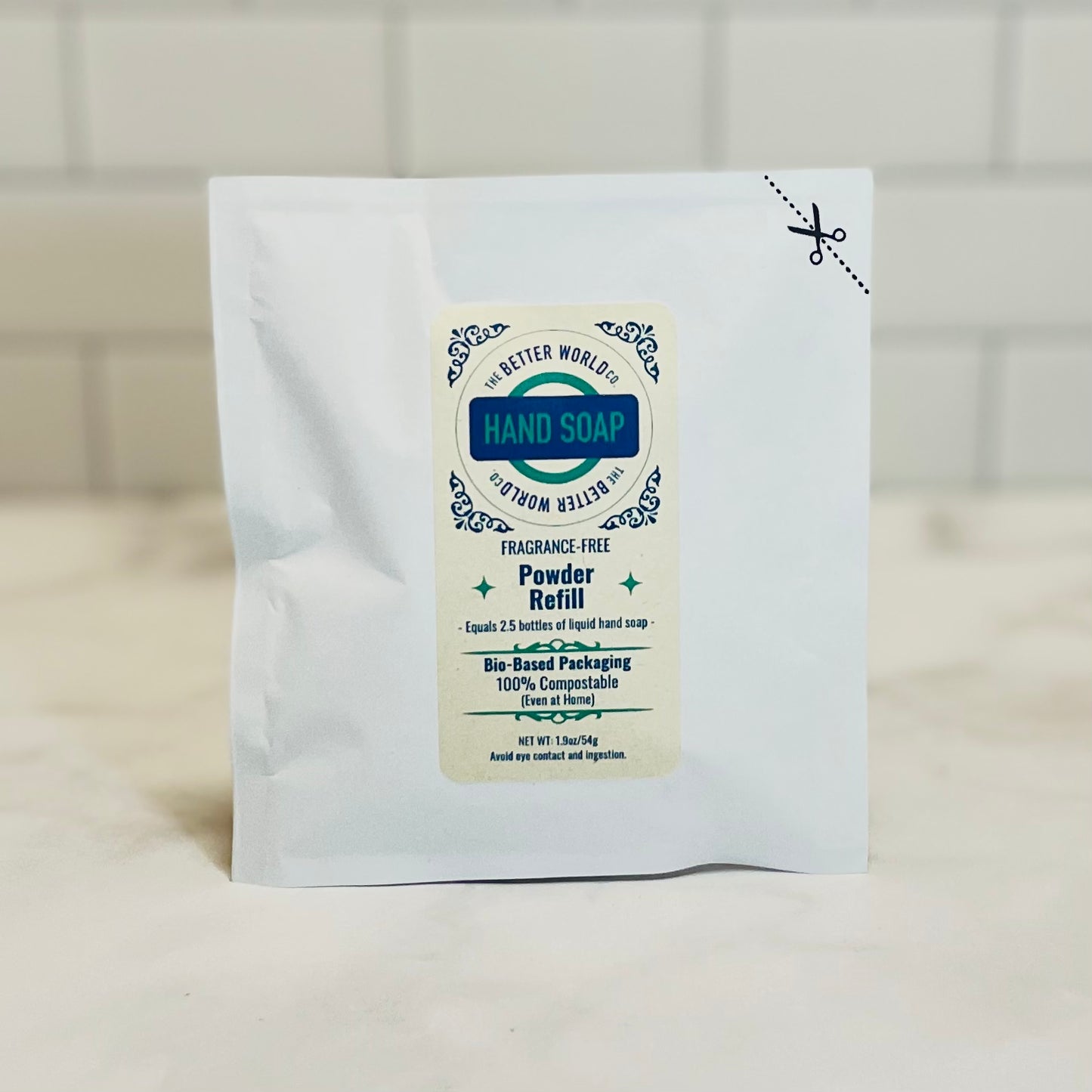 How It Works - Powder to Foam Hand Soap
Pour.

Snip the corner of your refill pouch and carefully pour contents into your shaker bottle. A funnel may be helpful.

Shake.

Wet hands then sprinkle a small amount of powder onto palm. Rub hands together to produce a bubbly foam.

Smile.

Rinse well and carry those clean hands and big smile wherever you go.