Regular price
$108.65 USD
Sale price
$95.95 USD
Unit price
per
$AVE!
Sold out
LITERALLY everything you need for a zero waste, low-impact, ultra-clean home (ok almost everything). We put our most popular cleaners (and their dispensers) into a single bundle so you can jump head first into the deep end of the pool. You'll be glad you did!
Ingredients

Please visit these individual product pages for a complete product description and ingredient list: Dishwasher Detergent, Laundry Detergent, Laundry Oxy-Booster, Dish Soap, All-Purpose Cleaner, Bathroom Cleaner, Glass Cleaner.


No Junky Stuff! No parabens, phthalates, synthetic colors or fragrances, phenoxyethanol, polysorbates, dimethicone or other silicones, polyethylene glycol (PEG), polypropylene glycol (PPG), EDTA, BHA, BHT, MEA/DEA/TEA.
Packaging/Lifecycle

All our packaging is bio-based and 100% compostable, even at home! Certifications include ASTM D6400, EN13432, BPI, and TUV OK Compost HOME. All components are safe for at-home composting (including the labels and their adhesive backing), but time to fully decompose will vary based on your unique conditions. We recommend a quick rinse of the empty sachet before composting.

No compost? No problem! Click here to find the FAQ about our pouch return program.

All our dispenser materials are curbside recyclable, should the need ever arise.
What's Included

Each product in our Clean Home Bundle comes with a refill pouch and a dispenser. Scoops are optional, and can be added individually on the Accessories page.

Dishwasher Detergent - 1 refill pouch and 1 (optional) Tablespoon scoop with clip. Enough to clean 50 loads of gnarly pots, pans, or whatever else you throw at it.

Laundry Detergent - 1 refill pouch and 1 (optional) Tablespoon scoop with clip. Enough to clean 50 loads of the dirtiest clothes you can find.

Laundry Oxy-Booster - 1 refill pouch and 1 (optional) Tablespoon scoop with clip. 50 doses of "I can't believe that actually got clean."

Dish Soap - 1 refill pouch and 1 shaker bottle. The refill pouch will usually last as long as three (3) 16oz bottles of liquid dish soap.

All-Purpose Cleaner - 1 refill sachet and 1 spray bottle. Just add the powder to 16oz of water and you're good to go.

Bathroom Cleaner - 1 refill sachet and 1 foaming spray bottle. Same preparation as the All-Purpose Cleaner.

Glass Cleaner - 1 refill sachet and 1 spray bottle. Streak-free made easy.
Safety/Other Info

SAFETY BLURB! Our products are earth friendly and awesome, but they taste terrible and might irritate your eyes. Do not eat. If ingested, rinse mouth then drink plenty of water. In case of eye contact, flush thoroughly with water. Avoid prolonged contact with skin. Discontinue use if irritation occurs. Keep out of reach of children/pets, use as directed, and all that jazz…

Also FYI: We're constantly working to improve our formulas, and our ingredients may change occasionally. We update the listing here as soon as possible, but you can always find the exact ingredients in the product you received on the actual product packaging or the packing slip that came with your delivery.
Share
View full details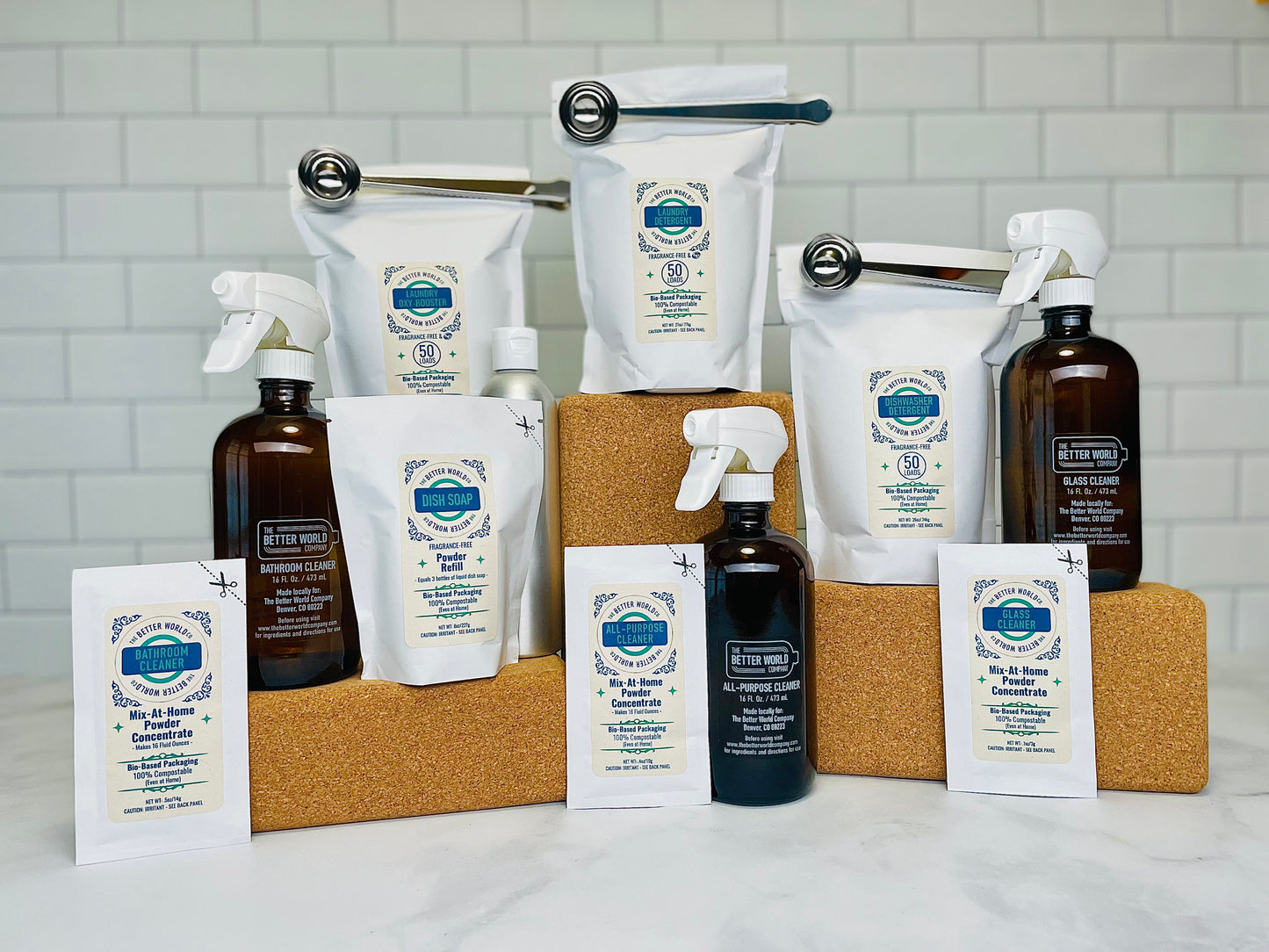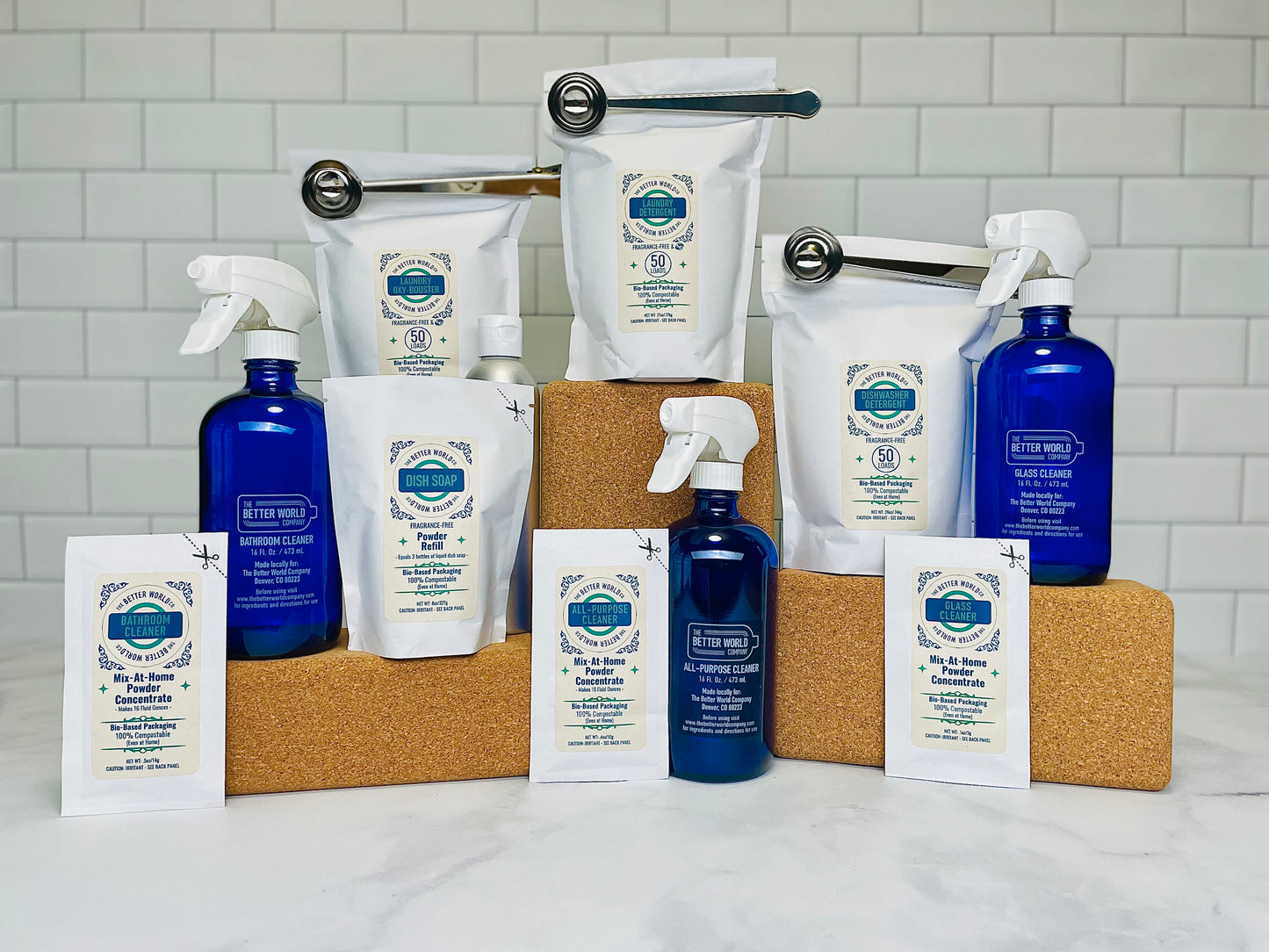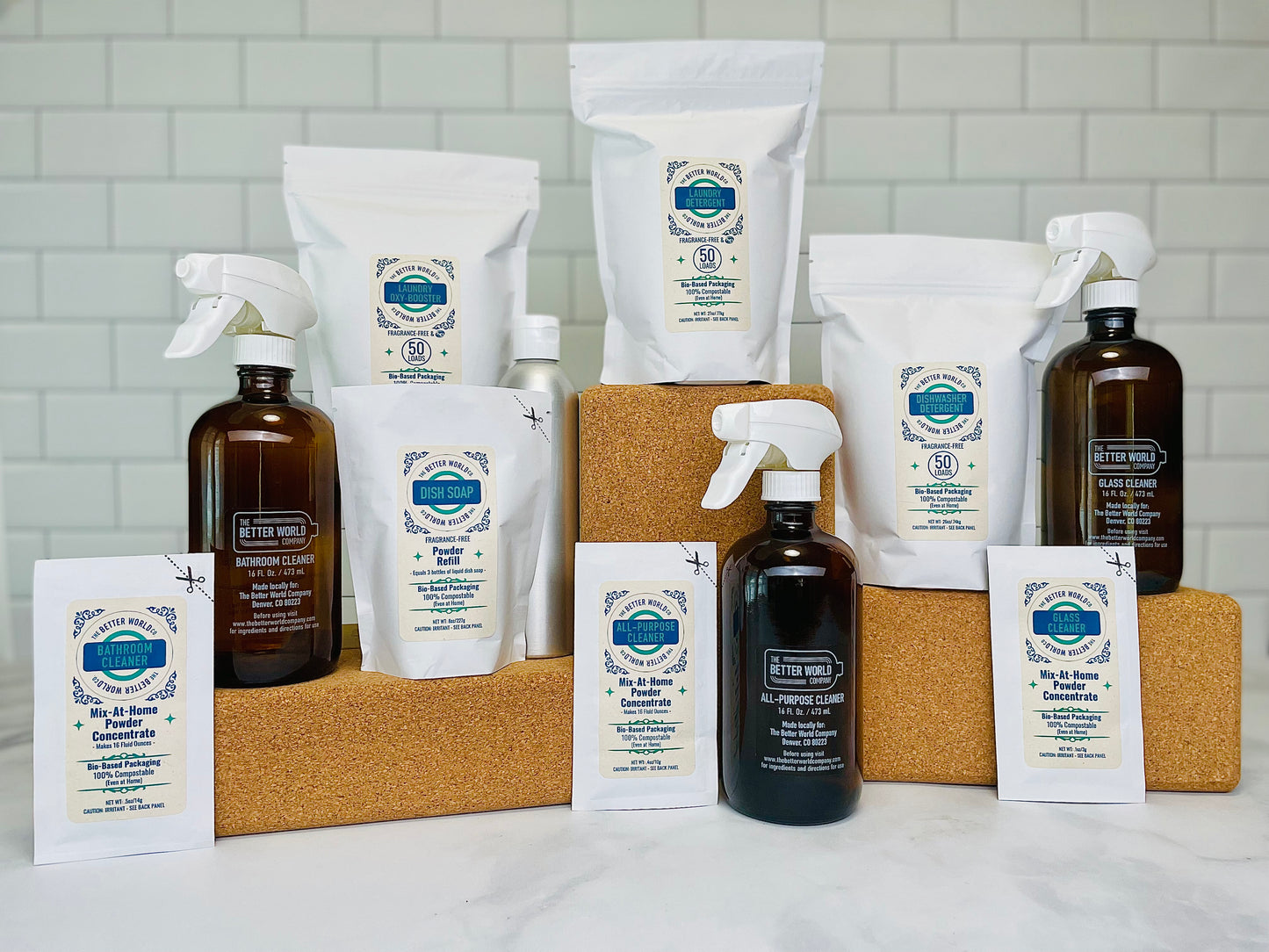 The Low Down: Waterless Formulas = No Water Shipped = Happier Planet.
Powder to Foam Dish Soap

Sprinkle some dish powder from your shaker bottle onto a wet scrubby or directly onto dishes and watch the magic happen.

Mix at Home Spray Cleaners

To make your own amazingly awesome spray cleaners just add the refill powder to a spray bottle filled with 16oz of water.

Scoop-a-Doop

Just 1 tablespoon of our super-concentrated detergents is all it takes. No water necessary!